Protect your vehicle in style
Check out the product range from In the GarageTM. We have storage solutions for your car, motorcycle, and specialty vehicle.
ALL PRODUCTS





12th January 2021
Very happy with the customer service. Filippo was most helpful in taking care of my order. Will definitely go back to them in the future.





11th January 2021
Exceptional communication from my first tentative enquiry, updating me regarding delivery and emailing me regarding possible transport issues. I have no hesitation in saying "use these people with total trust". Thank you.





14th September 2020
Good, clear website. The response to my questions was very fast and efficient!





29th August 2020
Absolutely excellent products , highly recommended





06th July 2020
Excellent service. Delivered on time and well packaged. Highly recommended if you are looking to use this company for car storage.





26th June 2020
I was looking to protect my 911 from the elements or whatever and I found it. With Outdoor car Shield from In the garage, I can leave my car in peace. It is very easy to install and very aesthetic. I can leave my car plugged in so as not to strain the batteries, everything is very well designed. In addition, the after-sales service is particularly available, efficient and friendly if you have small questions. In short, I recommend without moderation. It's anything but a gadget and it keeps our titin even better than in a garage, no intrusions of rodents or insects are to be feared, nor corrosion of course. Excellent value. Ludmilla





22nd June 2020





04th June 2020
The Car Shield arrived on time and was as described. It looks like very good quality, also the zippers that I believe are very important The fan is quite powerful and inflates the structure just in few minutes. Instructions are included but i just had a little look at, easy to set up!





01st June 2020
Fast friendly service. Very easy setup, exactly what I wanted. Moving from a Car capsule to this option is a no-brainer. The ease of just undoing one rear door over completely removing the cover is worth the extra.





24th May 2020
Great product and very fast shipping thank you





04th May 2020
I am very pleased will my item, got great service from the seller.





14th April 2020





24th February 2020
Excellent service and product exactly as advertised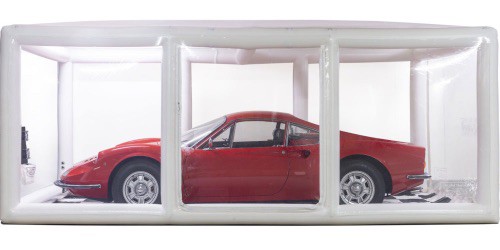 Whisper quiet yet powerful fan system.
Inteligent pump and integrated control unit maintains optimal air pressure.
Continuous filtered airflow removes moisture and condensation.
Convenient drive-in, drive-out feature gives you quick access to your car.
Heavy-duty PVC pillars mean no metal touches your vehicle.
Impermeable floor protects your garage.
Condensation – not humidity – is the main threat when storing your vehicle.  When warmer air comes in contact with colder air such as on metal panels and glass on cars it forms condensation…